The Michael Kors logo, featuring the designer's initials, reflects the company's commitment to quality and sophistication.
The minimalistic design represents the brand's dedication to producing only the finest apparel, footwear, and accessories.
Michael Kors Holdings Limited, a renowned American firm, is known worldwide for designing and manufacturing high-end apparel, footwear, and accessories.
Michael Kors founded the company with John Idol with reasonable prices and a focus on providing quality clothing for young people in mind.
What Is Michael Kors?
Michael Kors is the designer's name. Until it was renamed Capri Holdings Limited, his multinational company went by Michael Kors Holdings Limited.
The company, established in 1981, produces apparel, footwear, and accessories like watches and purses under its namesake. The holding company has locations in New York City, London, and the British Virgin Islands.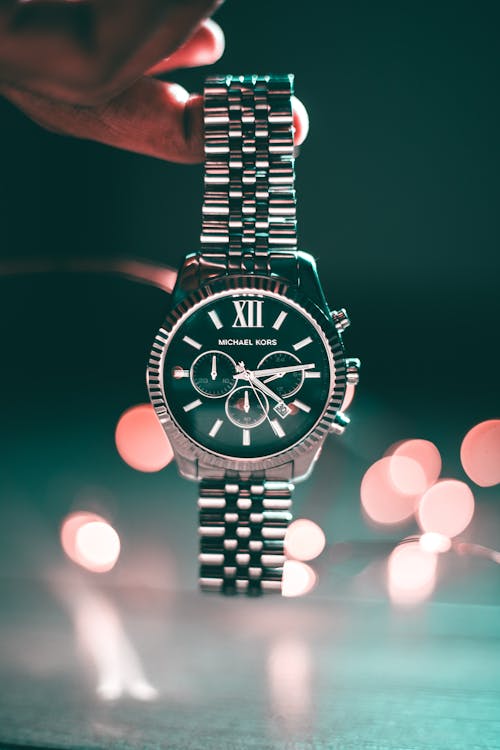 Michael Kors Logo Meaning And History
The fashion house has kept a rather consistent visual identity throughout the years, with two logos from the 1980s and 2000s still in use. Michael Kors's emblem, which is both minimalistic and chic, goes great with the line's signature feminine cuts and prints.
1981 — 2006
The fashion label's first logo debuted in 1981 and featured a thick circular frame. The "MK" monogram was placed within the frame.
Two monogram letters were stuck together and shared a single vertical bar. The font used for this logo was big and sans-serif.
The label's second line, Michael by Michael Kors, and its accessories continue to use the logo, which is basic but highly powerful and assertive.
2006 — Today
In 2006, Michael Kors updated their visual identity to use a monochromatic logotype.
The new look was straight and clean, with rounded forms and pronounced cuts of the letter edges, which is very convenient for the fashion industry.
The zeroes in the inscription are separated into two halves, creating visual balance and making them feel less heavy.
MK Symbol
The central symbol is two letters, "M" and "K", wrapped around each other. The left letter "M"'s vertical bar crosses over the right letter "K"'s vertical bar. This emblem is inside a large circle.
Wordmark Emblem
The Michael Kors wordmark is elegant and stylish, perfectly demonstrating the brand's simple sophistication.
Moreover, we have also written an article about 12 brands like Michael Kors. It will also increase your knowledge about different brands if you read it.
Font And Color Of The Michael Kors Logo
Michael Kors is not only the company's owner but also featured prominently in the logo. His name and image are sewn into every garment and applied to all tags and accessories.
Therefore, when you see the Michael Kors symbol, you know it represents quality craftsmanship.
The whole logo resembles a black rectangular plate with a white circle insignia. The brand name is written in all capitals and underneath the logotype, which consists of two letters combined by a vertical wall.
The formal, sophisticated Sans Serif typeface is used to write the name. Lettering that is easy on the eyes and free of unnecessary flourishes signifies that a product is high quality.
The colors black, white, and gold are associated with our company. We often add a golden insignia adorned with fake diamonds or some other type of precious metal seal for more luxurious items.
Each season, their collection of emblems features a different range of colors. In spring, we offer subdued green tones; summer brings brighter, more vibrant colors; and in fall, warmer hues of yellow and orange prevail. Wintertime displays typically make use of white.
History Of Michael Kors
Michael Kors launched his womenswear collection in 1981 after receiving enough attention for his original designs. The line was named Michael Kors Women Collection.
Similarly, you should also read our article about why Michael Kors is so expensive.
High-end department stores were the retailers of his apparel line. His clothing was carried at high-class places such as Saks, Neiman Marcus, Bergdorf Goodman, Lord & Taylor, and Bloomingdale's.
1984 marked the first fashion presentation held by Michael. By this time, knowledge of him had circulated throughout the world.
As one of the few designers at that time who produced ready-to-wear clothing for both men and women, it was no surprise that he rapidly became successful in the fashion industry.
Company Evolution Since The 1990s
After an Italian manufacturer went out of business in the 1990s, my company struggled to stay afloat and eventually had to file for bankruptcy.
At this time, I saw a sharp decline in sales, and even some of my upscale boutiques were forced to close their doors.
About twenty shops across the country stopped stocking his products. In 1997, LVMH (a luxury goods conglomerate) invested in his company and its lower-priced brands. He now works as Celine's designer for LVMH.
The following year, he was promoted to the position of creative director at the French firm. After a few years of innovative ready-to-wear designs, he revived the company.
After quitting Celine in 2004 to start his fashion label, he gained widespread visibility and notoriety after being featured as a judge on the popular fashion design competition Project Runway.
He then debuted his seasonal clothing and accessories lines in the United States, where they were met with great success.
His clothing brand now includes swimwear, jeans, and shoes. In 2004, he also began selling fragrances and handbags.
Later, during the 2006 economic recession, he created more affordable gowns that quickly became popular among cash-strapped shoppers. One of his stores opened in 2006.
Michael Kors is successful because he designs clothes for women of all shapes, sizes, and socioeconomic backgrounds.
After his company went public in 2011, an 18% increase in the value of his shares made him a millionaire by 2014.
His company's revenue increased to $4.5 billion the next year. However, due to poor sales, over 125 stores closed in 2017.
That same year they spent $1.2 billion to buy Jimmy Choo boutiques, a luxury shoe store chain.
A while later, Versace was acquired for $2.2 billion, and the business was rebranded as Capri Holdings Ltd. They are projecting a 100% sales increase with the new product line.
With help from internet sales, additional retail outlets, and expansion into Asia, he has high hopes for taking Versace to new levels of success.
Most of the boutiques owned by Michael Kors, Jimmy Choo, and Versace's parent company, Capri Holdings, will reopen their doors in July 2020.
This news gives jobs back to 455 people in the United States and 355 people in Europe, the Middle East, and Africa.
A lot is riding on Versace right now. Top priorities include store makeovers and expansion of their accessory line to contend in the premium market. They plan to open 300 Versace boutiques around the world.
The Versace Baracco V line is doing well, so they've expanded into selling home furnishings like sofas, chairs, and tables for the den, bedroom, dining area, study or library.
Major Fashion Designs By Michael Kors
Michael Kors not only designs fashionable athleisure apparel for both men and women, but he also has a range of other items that ladies will love including skirts, dresses, smocks, shirts, jackets, sweaters and more.
Before, his only product offerings were women's purses, wallets, shoes, timepieces, and jewelry. However, he has broadened his horizons to include men's accessories like wallets and watches.
Among the accessories Michael Kors sells for men are belts, shoes, cologne, sunglasses, gloves and suitcases.
He always looks for new trends in women's and men's clothing to add to his collection.
Some of his previous creations include cowhide vests, gold leather jeans, and body suits. For a while, locals in Paris didn't take well to his designs because they reminded them of midwestern department stores.
Michael's career changed when he helped make the French label Celine a global sensation.
Although he was never successful in the French market and is more well-known in the United States, his work made him a household name worldwide. He often jokes that he might have been a painter if people didn't like his work.
Kors is very detail-oriented and notes how his clients dress when they come in or what they wear when traveling. Fashion has changed significantly in the last 60 years, and Kors has adapted to those changes by learning what people want.
Nearly everybody has a personal style, and fashion is always changing. Michael began designing clothes for guys because he found it difficult to find basic clothing like gray pants and a sweater that he liked.
He believes that a new generation will come with its unique sense of style and architecture, so being adaptable is key.
Michael Kors supports the UN World Food Program and other initiatives to end world hunger. Michael Kors' creative director and spouse, Lance LePere, is also married.